The doubleSlash Business Filemanager
Securely send files & connect devices
An automated, secure and regulated data transfer is an indispensable part of a corporate digitization strategy.
The flexible managed file transfer solution doubleSlash Business Filemanager (BFM) offers the right infrastructure for...
...secure data transfer and location-independent collaboration (BFM Collaborate).
...the connection of disconnected devices for data transfer (BFM Connect).
The Business Filemanager features in detail
The content collaboration platform BFM Collaborate enables collaboration on files and secure data exchange, regardless of the device and location. This way users always have the latest file version available and are able to manage their files better.
The lightweight IoT solution BFM Connect enables the networking of devices that are not yet connected. This allows data to be read from the devices, e.g. for diagnostic purposes, and data to be uploaded to the devices, e.g. updates. Connect the disconnected.
The doubleSlash Business Filemanager provides you with ...
Control
A data lock allows you to control all data flows
Seamless integration
The doubleSlash Business Filemanager seamlessly integrates into your IT infrastructure and interconnects systems - thanks to a smooth API/interface concept and the compliance with industry standards (CMIS)
Security
Close security holes and forestall "shadow IT"
Flexibility
Thanks to its modern software architecture, the functionality of our Business Filemanager can be swiftly and easily modified and extended, which makes it the perfect tool to immediately react to new requirements
Learn more about the Business Filemanager (in German)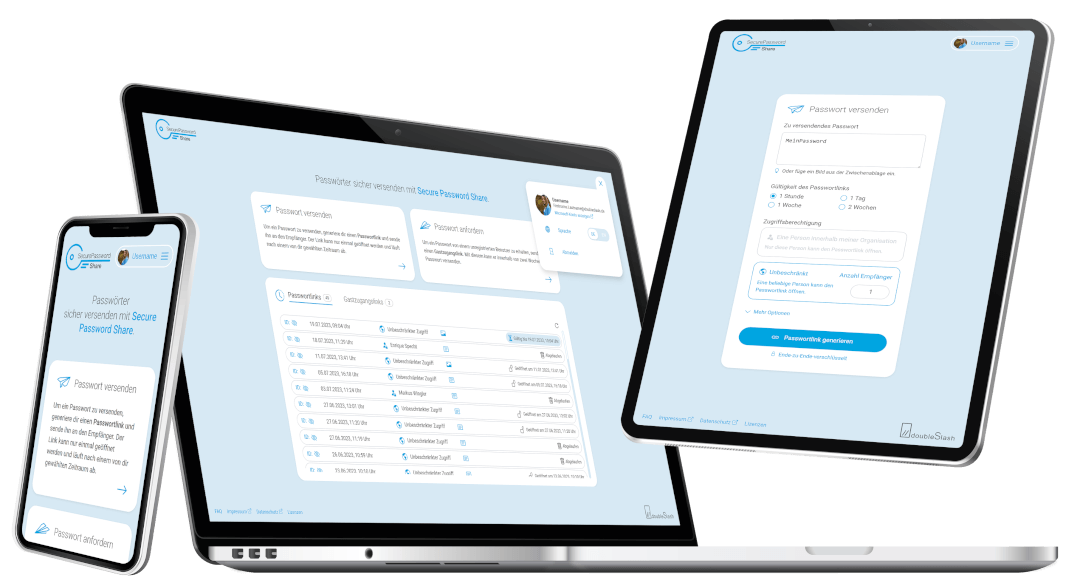 Sie suchen nach einer sicheren Versandmöglichkeit speziell für Zugangsdaten?
Dann ist Secure Password Share die richtige Lösung für Sie.
The doubleSlash Business Filemanager - as individual as your requirements
An inflexible data transfer tool out of the box can't be sustainably integrated into the complex and sensitive IT infrastructure of a large company. Our customers are aware of that and especially appreciate the flexibility and scalability of our file transfer solution. A sophisticated sofware product, paired up with doubleSlash's competence in consulting and service, guarantess long-term customer satisfaction.

"... What we particularly appreciate about the solution is that it integrates very flexibly into our existing processes. Specific requirements are implemented agilely and with high quality. With doubleSlash we have found an experienced partner for our demanding B2B business."
Jörg Büchner // Leader of master data/structure data // IT ZF Group
Do you need a Business Filemanager for your data transfer?
Contact us and let us know your requirements. We would be pleased to offer you a customised solution.