Digital Products for a better life
Many success stories have one thing in common: a mission and a team that accepts every challenge.
This is also how our story begins. It was in 1999 when a team of computer scientists and engineers decided to found a software company. Inspired by the stories from Star Trek, the question was already at that time: how can we use technology and team spirit together to create a better future? The mission: helping companies understand and leverage internet technology for their business models. The founding team`s convinction: good teamwork, open communication, the sensible use of technologies and methods and enthusiasm for what you do are the recipe for success for good projects.
The combination of technology and benefits
The two slashes // have been characteristic for us and our name ever since: doubleSlash. They symbolize a connecting element. Just as the Internet connects people, machines and ecosystems, doubleSlash stands for the unity of technology and utility. Shortly before the turn of the millennium, the doubleSlash team launched its first digitization project. Since then, we have been following our vision of making life better with digital products.
---
Our brand consists of four elements: vision, mission, belief and values. We use them like a compass that gives us orientation and points the right way into the future.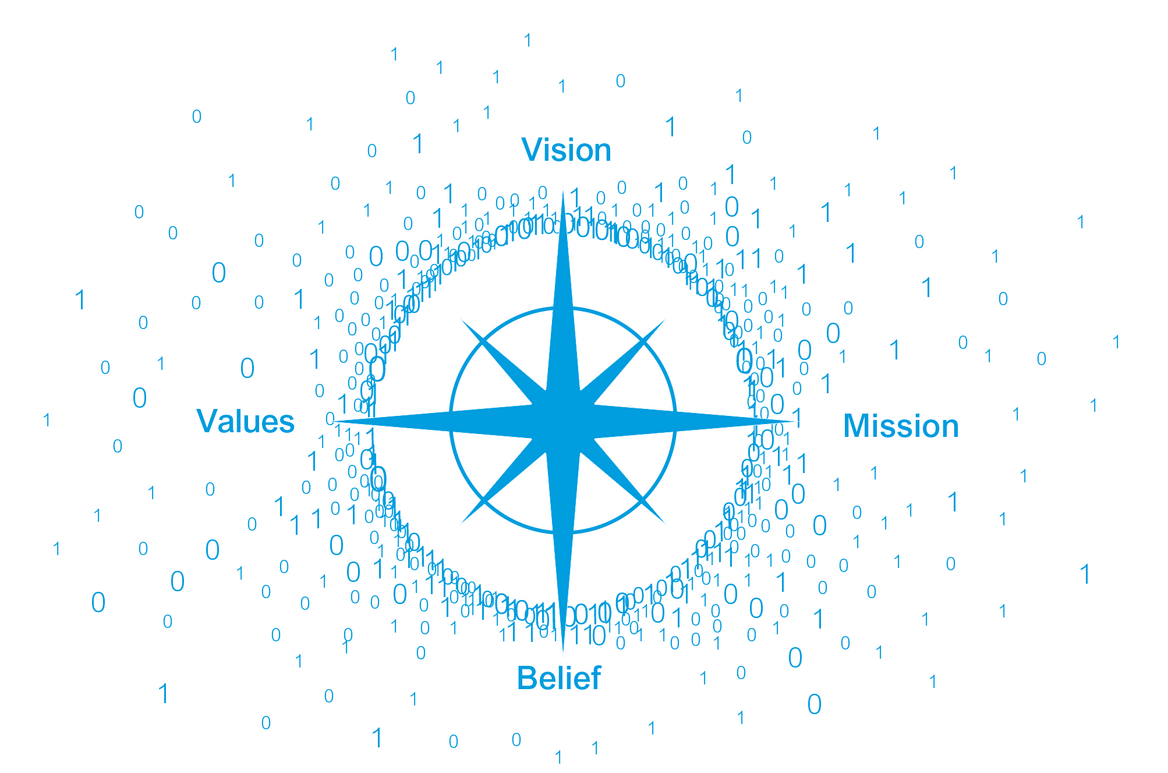 The vision shows us the common direction - a future that we believe is worth striving for. The way to achieve this vision is our mission. The basis of our work is our belief and our shared values. They determine our attitude, our actions and thus our impact internally and externally. They stand for the personality of doubleSlash.
We have a very special spirit, which becomes tangible through the values we live by and our common goals. Both we ourselves and our customers benefit from this. This ensures our joint success - today and in the future.
Digital products should improve all our lives by creating a positive benefit.
Our vision
Digital Products for a better life
We strive for a world in which products "think for themselves" and thus make our everyday lives safer, more comfortable, more sustainable and smarter.
Our mission
We create value // with digital solutions
We develop digital products in networked ecosystems that focus on benefits for people. We are the architects of digital business models.
Our belief
We act according to our values and take responsibility - for ourselves, our fellow human beings and society. Through our proven methods, experience and special care, we deliver exceptional quality.
Our values
together – teamwork and loyalty
At doubleSlash, everyone is there for one another. We are united by a common mission and we see ourselves as one team. We work together hand in hand and at eye level - whether among colleagues, with partners or customers. Together we continue to develop. We respect the individuality of everyone. At the same time, we build on the different skills for the benefit of the community.
Examples of our strong sense of community are the opportunities for co-determination and co-design at doubleSlash, including in innovation management, in working and research groups or the employee shareholding company.

open – communicative, unbiased and open-minded
We at doubleSlash meet everyone with an open attitude. We approach other opinions and perspectives open-minded. Conflicts are addressed openly and respectfully.

We like to share our experiences and knowledge, because we are convinced that education is the most sustainable kind of value creation. That's why we have started our blog shortly after establishing our company in 1999. Here we report on our software projects, the daily routine of software development and shed a light on topics that offer a special added value – which also means that we keep our processes transparent.

sustainable – responsible, innovative and stable
Our thoughts and actions are focused on long-lasting benefits. We build lasting relationships with our customers and partners. In our projects, we rely on future-proof and approved technologies from our construction kit and use resources responsibly. As a company, we also systematically drive our social and environmental responsibility with our sustainability management.
We value the long-term commitment of our team members and accompany our colleagues through their various stages of life. With us, the team is involved in decision-making processes.

enthusiastic – passionate, motivated and dynamic
We have fun at our work. We enjoy being successful together and trying out new things. We are happy when our work is appreciated by customers and in the team and when we can also celebrate together what we have created.
We feel this enthusiasm every day - in projects, workshops, during joint leisure activities or our annual Technology Days.
Do you have any questions regarding doubleSlash or would you like to contact us?