Connected things


Reduce the operating costs of machines, plant and connected devices, extend service life and offer value-added services for the customer
Successfully implement services for connected things – for more efficiency and new digital services
Successful IoT services and connected things require a fundamental understanding of the market, extensive technical expertise for IoT system integration as well as a customer-oriented approach. This allows us to map the entire maturity process from pure product networking to IoT system integration into your existing service processes and the development of new business models. Services for connected things create new added value for your products and plant – in your company and for your customers, thanks to real-time information and its use.
Are you an IoT project manager? Surely you will know these questions very well:
Are these your implementation goals?
You want to connect your products or machines to collect usage data from the field and use it to develop digital services for your customers?

You want to use the usage data from the field to make internal processes more efficient and identify potential savings?

You want to collect and document your requirements to find the IoT platform that best suits you?

You're planning to create and document new connected business processes and implement them in the form of software?

You want to integrate the new digital services in your system landscape as well as connect them to existing systems (e.g. your CRM and ERP systems)?
And are these your challenges?
How can we easily and efficiently connect our products and plant to an IoT platform to collect usage data?

What data do we need to make existing business processes more efficient and more customer-centric?

What IoT platforms are there? What range of functions does each IoT platform offer? What advantages and disadvantages of IoT platforms do we have to bear in mind?

How do I document the requirements so that they lead to the development of efficient and goal-oriented software?

How can we connect our new digital services to our existing systems in a way that's efficient and future-proof?
Implement connected things successfully with doubleSlash
In the development of an IoT solution, many technologies and services come together. We are your IoT experts throughout the entire IoT value chain: consulting, hardware, connectivity, solution design, software know-how and IoT system integration.Powerful partnerships with leading IoT platform services, such as Microsoft Azure and PTC ThingWorx, round off our portfolio. We provide you with fully customised support, from the connection of different system architectures and connectivity levels, to complex device management and technical subjects such as multi-client capability, remote update capability, device security and, last but not least, data protection.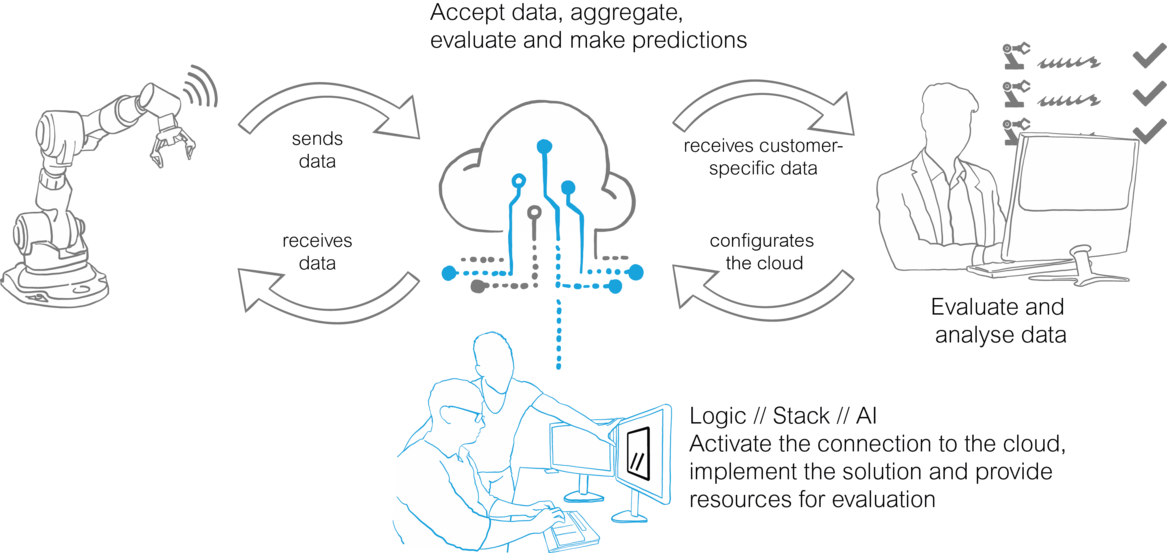 Our expertise & approach
We are your integration partner for the conception and implementation of your services for connected things
Our expertise: Thanks to our many years of experience in various industries with diverse IoT platforms, we are in the position to understand and document your requirements in a proven and agile process model and to convert them into software.
During the initial planning phase: We help you to connect your product and machine data in a future-proof way and bring it onto an IoT platform.

During the initial planning phase: We create an overview of the existing or required data necessary for implementing your digital services.

During the selection phase: We offer you a quick and structured overview of the functional scope as well as of the relevant advantages and disadvantages of IoT platforms. This enables you to make the best possible decision about which IoT platform suits you best.

During the conception phase: We compile the requirements for you and ensure that they are captured and documented unambiguously and holistically. This is how we make sure that the software development proceeds in a targeted manner.

During the implementation phase: We make sure that your digital services are connected to your existing systems in a future-ready way. This is how you profit from a holistic approach and you always have your data wherever you need it.
This is what our customers say
"In a joint project with doubleSlash we developed a functional prototype very quickly. The result was a number of use cases that we were able to present to our customers and interested parties at our in-house exhibition. The successful cooperation is above all also due to doubleSlash's clear expertise in the Internet of Things."
Dr. Marcus Schmeißer // Senior Product Manager // Software and Eco-System, Giesecke+Devrient Currency Technology GmbH
---
"In a workshop with doubleSlash we created, documented and prioritised value propositions together for different customer segments. The result ensured that we were able to develop a better understanding of digital services in our team and have a clearer picture of a new digital business model. With this transparency we will be able to minimise business risk for the project going forward."
Werner Baumgartinger // Project Manager // Fronius International GmbH
doubleSlash is your expert for connected things: We offer you
Requirements investigation, specification and prioritisation of your digital business processes.

IoT conception and solution development for asset management, remote software updates, predictive maintenance and remote monitoring.

Evaluation, selection and integration of a suitable IoT platform.

Connection of different devices or machines, embedded systems and applications according to the highest of security standards.

Implementation of your IoT use cases and integration in your existing system landscape.

Conception and implementation of a rollout programme to the target markets.

Design and implementation of a suitable support concept.
How can we support you in the successful implementation of your IoT project?
As an experienced IoT system integrator, we would be happy to assist you in connecting your products and services. We are also an experienced partner in the development of IoT-based business models.